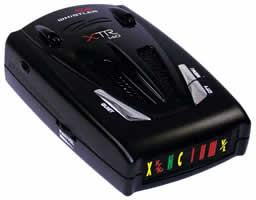 Whistler XTR- 140
r/l detector
Features
The use of radar/laser speed trap detectors is endorsed by the traffic department. According to superintendent Wayne Minnaar, Metro plikce spokesman for Gauteng (see The Citizen, August 2006) and Ian Auret, chairman of the Metro committee on road safety, the detectors 'slow the traffic down' 'enable the motorist to keep his eyes on the road' and 'promote traffic safety.
Whistler XTR-140 r/l detector is a voice activated detector with a range of over 1 kilometre for laser, and up to 7 ks. for radar.
Seven Segment with Icon Display and Voice
Features:
• Total Band Protection™
• Icon Display
• 360° Protection
• VG-2 Cloaking
• 3 City Modes
• Quiet/Auto Quiet Mode
• Vehicle Battery Saver
• Alert Priority
• Twin Alert Periscopes
Whistler's ergonomic and user-friendly design
provides a new level of operating convenience.
Special features include:
Note: Not all units have all features listed.
1. Bracket Release Button – provides quick
and easy release of the mounting bracket.
2. Speaker – provides distinct audio warnings
for X, K, Ka band radar, safety radar, laser and
VG-2.
3. Mounting Bracket Location – slot holds
mounting bracket firmly.
4. Radar Antenna – compact, high-efficiency
antenna receives radar signals.
5. Front Laser – high gain optical lens provides
increased sensitivity and field of view for
leading-edge laser detection.
6. Rear Laser – an integrated optical
waveguide provides superior detection of
laser signals transmitted from behind.
7. City Button - reduces the annoyance of
false alerts typically encountered in urban
driving areas.
8. Quiet Button - pressing QUIET before a
radar signal is detected engages Auto Quiet
Mode which provides "clicking" sounds
after the initial warning. Pressing QUIET
during a radar encounter silences audio
alerts, while allowing visual alerts to keep
you informed.
9. Power / Volume Control – turns unit on/off
and adjusts audio level
10. Dim Dark - engages Dim/Dark modes
11. Menu Button - (XTR-140) turns VG2 on/off.
12. Icon Display - offers easy-to-read display to
indicate power, city mode, radar band
identification, and signal strength.